Author Mark Kurlansky has made a career of examining the intersection of cuisine and culture. In such outstanding treatises as The Big Oyster: History on the Half Shell and Cod: A Biography of the Fish That Changed the World, Kurlansky has chronicled the myriad ways that what we humans put in our mouths profoundly influences what we do with our hands and minds, and vice versa.
Less well-known is Kurlansky's only cookbook. The Food of a Younger Land (2009) is a brilliant piece of historical research, collecting the long-forgotten efforts by the Depression-era Federal Writers' Project to document the food and cooking traditions of every corner of the country. "America Eats," which enlisted the talents of such authors as Eudora Welty and Zora Neale Hurston, was ultimately abandoned, uncompleted, by the Works Projects Administration and sat mostly undisturbed in the Library of Congress for decades — until Kurlansky came calling.
"Food was far more regional than it is today. … ("America Eats") captured now nearly forgotten food traditions such as the southern New England May breakfast, foot washings in Alabama, Coca-Cola parties in Georgia, the chitterling strut in North Carolina, cooking for the threshers in Nebraska, a Choctaw funeral, and a Puget Sound Indian salmon feast. It also had old traditional recipes such as Rhode Island jonny cakes, New York City oyster stew, Georgia possum and taters, Kentucky wilted lettuce, Virginia Brunswick stew, Louisiana tête de veau, Florida conch, Minnesota lutefisk, Indiana persimmon pudding, Utah salmi of wild duck, and Arizona menudo."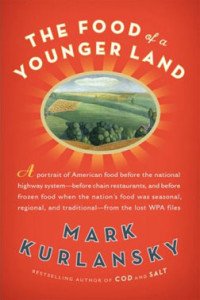 Kurlansky is careful to note that The Food of a Younger Land is not "America Eats" or what it might have been had World War II not intervened. Instead, Kurlansky has meticulously curated the writings of each region to create a snapshot of our nation's culinary customs before the onslaught of fast food, interstate highways, and global food distribution.
Nor is the work a true cookbook — but there are plenty of recipes to be found tucked within the colorful travelogues. Among those that Cuisine Stupide has tried is this version of Rhode Island clam chowder, found and documented for "America Eats" by Walter Hackett and Henry Manchester. I've adapted the narrative version to a conventional recipe format — which, interestingly, closely resembles the Quick Clam Chowder recipe featured in the America's Test Kitchen Family Cookbook.
Proving, I guess, that some things about the way we eat haven't changed much at all.
---
Rhode Island Clam Chowder
(adapted from The Food of a Younger Land)
Four slices of bacon or mixed salt pork
2 onions
4 cups water
4 cups potatoes, diced
4 cups chopped clams, canned or fresh
3 cups whole milk
4 saltine crackers
1/8 pound (half stick) butter
fresh parsley
salt and pepper
Fry the bacon or salt pork until brown; add the onions and fry until golden.
Remove the bacon and onions, and add the water and potatoes to the fat. Cook until the potatoes are almost done.
Add clams. Salt and pepper to taste.
In a separate pan, scald the milk and add to the potatoes along with the bacon, crumbled, and onions. Bring to boil.
Pour into a tureen in which the crackers are crumbled. Add the butter. Season to taste.
Ladle into bowls and sprinkle some chopped parsley on top.
---
Incidentally, it turns out that Kurlansky is about to publish a real cookbook.